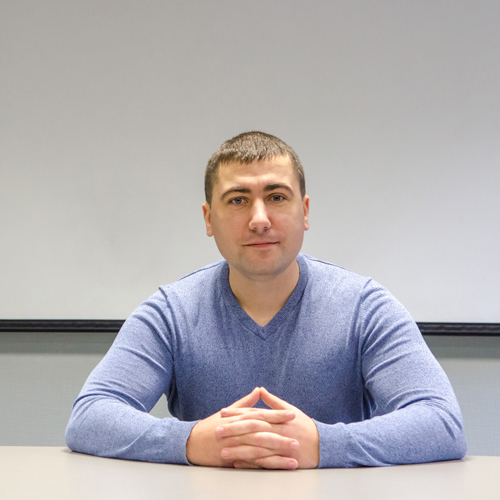 Andrii Tkachov, sales manager for key customers, is talking about ins and outs of sales skills, special aspects that help in the profession and solving any issues even in stressful situations.
The beginning of work in the company
I joined the company in 2006 as a store-keeper in the customer acceptance department. I liked good and friendly staff and the opportunity to study spare parts. It was my first job, and I got a good experience. During that period, the company was actively developing, and the workscope was increasing as well - it was necessary to handle with large amount of consignment quickly and faultless. A wider range of spare parts and the high pace of workhave appeared. And I sensed the opportunities for my career growth.
Career development
I started to study a new range of goods extensively and learned how to work with warehouse equipment. In 2010, I already became the head of the customer acceptance department, where I got the opportunity to try myself in managing a team of 10-15 people. Responsibility increased as I was responsible not only for my results, but also for the results of the team itself.
According to the results of 2010, I received a certificate as the best head of the customer acceptance department.
A year later, there was a job vacancy of after-sale support manager in the company. I took up this position after a successful interview. I had no experience in sales before, but at that time I already knew the product range well, I had a well-bread speech and a great desire to work in the field of spare parts sales.
The first two weeks in the new position were hard because I had to interact with customers closely, but I didn't have enough experience in communication with them. Call by call, I gained experience and confidence, and quickly began to show results.
Now I work as a sales manager for key customers. My responsibilities include interacting with the largest partners of our company and resolving all emerging issues of cooperation.
Mutual respect and support – the centerpiece of relations
I am surrounded by positive and experienced colleagues.They helped me and strongly supported at the beginning. Now, as for me, I also provide them with comprehensive support and assistance, and share my successful experience. We have a very common mutual supportiveness. I maintain trust-based relations built on mutual respectwith my clients. This is the center piece of relations for me.
Innovation in the company
We are constantly changing, we have to keep up to speed: to self-learn quickly and help our customers to get used to these innovations. For example, electronic docflow, web store, a new range of goods.
To keep up with all the changes, I interact with colleagues a lot and do not ignore the mailout.
Cooperation - sales mover
I like the opportunity to interact with interesting people and companies - leaders in the automotive components market. I also like helping our companies and our customers in making money.
Unfortunately, sometimes things that are not directly related to sales can be time-consuming. For example, issues related to the goods supply: the goods are not delivered, the wrong goods are delivered. Of course, such situations are stressful. But problem solving is part of the sales manager's job.
I adhere to three principles in my work: respectability, professionality and a positive attitude. And it helps.
Fresh air walks and periodic visits to the gym help me to rest from work.
Tip for beginners
Do not be afraid to take responsibility, learn new things, think positively and believe in yourself.