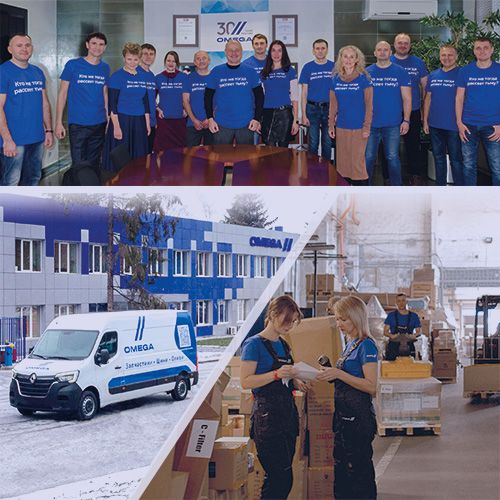 Omega is the largest distributor of automotive components in Ukraine.
We provide logistic, technical, informational and advertising support to our customers. We see our basic task in creating the effective integrated service system to support their business.
Who we are
We are a team of dedicated people who do not just perform their work well, but put something of themselves in it. The company has been in the market for about 30 years and we have a lot of experience under our belt. But we do not stand still, but continue to develop logistics and services, sign contracts with new suppliers and perform marketing activities. We know what is important and necessary for the partners, and we are doing everything to ensure that common work is effective.
Our history of the way of following the needs of our clients. Our clients changed us.
Our History
1990 – 1993
1994 -1997
1998 –2001
2002 - 2004
2005-2008
2009 - 2013
2014-2019
Present time
The market is chaotic. Along with the high demand for spare parts in Ukraine and the countries of the former socialist camp, there is a lack of system suppliers who you can rely on. Economic relations have been severed between the former Soviet republics. The supply channels that worked before had been destroyed, and the new ones had not been created yet. Consumers were in urgent need of spare parts for cars.
WE: There are two of us! The founders of Omega – two students, Yaroslav Bisaga and Yuriy Dudyryev - carried out the orders by themselves.
Steps towards partners:
Established the partnerships with the KAMAZ truck center in Kharkov.
Organized the first deliveries of spare parts "under the order" – at the request of customers.
Carried out the first delivery of spare parts to Hungary.
Opened the first warehouse in Kharkov with an area of 100 m2.
Market formation. Service standards had not been formed yet, the main market operators were small salespoints. Large system players were gradually emerging offering a new level of service. "Losk" was opened in Kharkiv – the largest open market of spare parts for cars in Ukraine. Kharkiv became a national center for the sale of spare parts. Consumers expected warehouse availability and the ability to purchase goods without prior ordering.
WE: Form a basic service. Omega became a large local market operator working in Kharkov and the region.
Steps towards partners:
Started to import the spare parts from Naberezhnye Chelny by our own transport. The first independent delivery of spare parts –1 KAMAZ.
Opened a spacious office with a convenient entrance for the freight transport.
Warehouse – 500 m2.
You could buy goods from us not only under the order, but also from the warehouse.
We established the warehouse accounting.
Our sales team held the meetings with the clients and actively sought opportunities to solve their problems.
Our main clients were road transport companies.
Our clients declared their needs and encouraged us to expand the range of products for their park.
A purchasing team had been created: they worked with the largest manufacturers of spare parts in the industry and provided our customers with the necessary assortment:
Regular consolidated supply of goods from 38 KAMAZ related factories was organized.
We began to supply spare parts for MAZ.
We supplied goods from the YaMZ plant and related factories. Already 2 own machines provided regular deliveries of goods.
In 1996 we started to work with the GAZ plant.
Market: development and competition. The period of formation of service formats.
We: Developed partnerships, improved the services provided according to the recommendations of our clients. We developed the principle of "Everything for a car from one source". We entered the national distribution market. There were already 100 people in our team.
Organized a centralized delivery of goods throughout Ukraine on schedule.
Introduced a commodity lending system.
Tires had been added to the assortment of goods.
Created the structure of sales, marketing, logistics.
Market: development of service for car owners in retail. A stable supply-sale-service chain was being formed, and specialized networks in the format of a shop with a service station appeared. Strong wholesalers entered regional markets.
We: Created an opportunity for partners to support a new service format in the market. We focused the client on interaction with the end consumer, taking care of the prompt delivery of everything needed. The client no longer needed to go to "Losk". He could receive the goods at the Omega warehouse in the region or order a scheduled delivery.
A new Omega logistics center had been opened. Thanks to this, it became possible for our partners to consolidate a wide range of goods with high availability in Kharkov – more than 3,000 items already.
We had built partnerships with major regional players. We provided them with supplies and rely on them when selling in the regions.
Following the needs of park owners, we started selling the trucks and heavy equipment produced in the CIS. At that moment our clients-park owners could receive a service on a turnkey basis - from purchasing a car and its maintenance, to purchasing the entire range of auto products with delivery directly to the park. Omega was the market leader in KAMAZ sales.
We provided 80 partners of the "shop with service station" format with certification in the "Car parts" network. Participation in the network allowed them to implement the leading standards of the retail network, and to the end users - to gain confidence in the quality of parts and service.
We had created a department for external integration of 1C "Omega" with 1C of our partners.
Market: active growth of the passenger car fleet began in Ukraine. The number of cars per 1000 people was growing from 125 to 170. Demand for foreign-made cars had noticeably increased - replacement of the fleet was beginning. Our customers needed a new range of spare parts and a new level of service.
In the same period, there was an increase in the fleet of trucks, providing the growing construction.
We: Provided the customers with quality service standards, logistics and the necessary assortment.
The demand for tires was growing – we opened the Delta tire logistics center and were organizing regular delivery of tires to all regions of Ukraine.
Service maintenance of a growing fleet required the storage of a wide range of goods and their prompt selection and shipment - we were implementing Solvo WMS (warehouse management system).
In response to the growing demand for cars, we had opened a network of car dealerships selling the VAZ cars.
To provide the growing fleet of CIS cars with high-quality spare parts, we created a network of retail stores - "Dorozhnaya Karta".
In 2006 we opened a service station for the maintenance of trucks.
We opened the regional warehouses and formed a sales team to support partners in Kiev, Odessa, Donetsk, Ternopil and Dnipro.
In Dnipro and Odessa we opened our own retail stores of "Dorozhnaya Karta" network as an example of the format for members of the entire DK network.
Already 800 of Omega employees took care of our clients.
Market: there was a severe economic crisis, growth of exchange rates. During that period, there was an active increase in the fleet of foreign-made trucks, the growth of the fleet of foreign passenger cars continued.
We: Ensured the speed of delivery of spare parts for foreign cars to the regions. We provided fleet owners with the opportunity to quickly receive high-quality all-steel cord (SSC) tires and service in any region of Ukraine.
In 2009, "Dorozhnaya Karta" partner network had 320 stores.
Omega became a member of the international procurement union ─ Temot International. That opened up new prospects for cooperation with global manufacturers and access to information on
European and world innovations in the auto business.
The tire market was changing - foreign cars used solid steel structures that required high-quality installation and operation control services. We were creating a joint project with Goodyear, a network of "DK Truck Force" truck tire changers, which specialized in the sale and service of the Goodyear Group truck tires.
We opened a modern logistics center for spare parts in Kiev to serve the western and southern regions of Ukraine.
We continued to improve the delivery services and opened 23 distribution warehouses throughout Ukraine to quickly reload the goods. That allowed to significantly increase the efficiency of order delivery.
For automatic control of delivery routes, we were implementing a transport management system – TMS.
We began to hold the training seminars for clients.
There were already 1000 people in our team.
Market: boundaries were blurring. Consumers were already familiar with the European level of service and expected the same level of service in Ukraine. The importance of the speed of car servicing was growing, the most valuable resource was time.
We: Were learning from the European experience, monitoring the trends and implementing them.
We ensured the availability of spare parts for foreign cars in the regions: our first regional warehouse of spare parts for foreign cars was opened in Dnipro. The next stage was Zaporozhye and Odessa.
We were launching a new service - delivery of goods on the day of order. As a partner of Bosch, Omega received the status of a certified supplier of spare parts and equipment.
There was a modern online store for the selection of spare parts and placing an order.
We created and developed our own project for the service station - a network of independent service stations AUTODOC. Network members received the special conditions for the supply of spare parts, marketing support and training.
To attract end consumers to online services, we had launched a retail online store autodoc.ua.
We opened the regional warehouses in Lvov, Nikolaev, Kiev (on the Left Bank), Poltava, Uzhgorod and Vinnitsa, Zhitomir, Krivoy Rog, Cherkassy, Chernivtsi, Khmelnytsky, Ivano-Frankovsk, Kropyvnytskyi, Rovno, Sumy and Kremenchug.
During 2017-2018 our company was undergoing a rebranding, designed to record all the changes that have taken place in the company over a number of years. "Omega" acquired a new laconic logo and position – "The first business partner in the market of auto components in Ukraine."
In 2019 we opened a Tire Logistics Center in Kiev.
We brought electric vehicles on delivery routes in Kiev.
On September 21, 2019 in Kiev, we held the first Omega Workshop Fest for our partners and their families, in which more than 4,000 people took part. More than 50 thematic zones from the leaders of the world auto components market were presented at the event.
Our team already had 2,400 qualified and passionate people who helped our clients to grow their business!
We: Over the years, Omega has been rapidly developing and changing. The assortment has expanded, the logistics system has covered the whole of Ukraine, providing the opportunity to deliver goods "today-for-today". We have created a modern web resource for partners, and our innovative call center provides ongoing customer support. We have established an electronic workflows with customers, and based on the best European practices, the warehouse and transport logistics are automated.
We have over 350 suppliers and over 14,000 clients. We regularly hold joint promotions with suppliers and organize educational seminars and trainings for our partners.
We plan to expand the range and form a comprehensive offer that will allow our partners to work more efficiently in the markets of spare parts for cars and trucks. The development strategy of our company is based on the principles of openness and trust, cooperation and partnership.