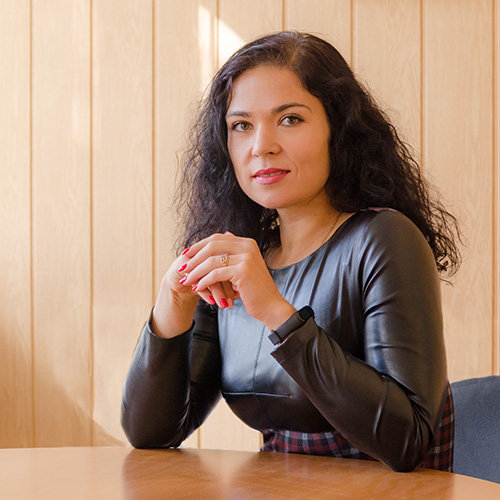 A man is in his place only when his beloved work allows him to open horizons - both in creativity and in communication with people. We are happy that the unwearying pursuit of self-development of our best employees encourages us to find new unexpected travel routes, interesting camera angles and broaden our horizons.
«With such a team, Omega is confident in the future!» - Anastasia Popova, Golden League participant, speaks of her work.
That's exactly why she successfully copes with any unexpected situations at work: thanks to great responsibility, amazing performance and professional experience gained in the company.
A job that brings joy
I like constant «vigor» in my work. I work with multifaceted people, select a approach to each of my suppliers. In complicated situations, my colleagues help me; they suggest the right solution to questions. And their optimism helps me focus on the positive aspects of the work.
Perseverance is our everything
Of course, difficulties sometimes arise at work; usually they are concerned with the specific features of communication with partners. It happens that it is necessary to remind suppliers about ourselves several times in order to get an answer on time and give feedback to our managers. But, as it is said, perseverance is our everything!
Favorite activities and hobbies
At different times, I tried to dip my toe into several creative directions. A few years ago I was fond of beadwork. Last year, with my works, I took part in an exhibition at Omega.
I try to create unusual bouquets of sweets and fruits for friends and colleagues on holidays. I like to see joy on the faces of friends.
Now I have turned to more active hobbies: I work out in the gym, I am very happy to see new results every month. I feel a flush of vigor and energy from doing sports.
And my favorite hobby is traveling. Nowadays there are more opportunities for budget travel. Last year, I rediscovered Poland, I dream to get to Prague again. I also really love traveling to Egypt, every time I find new interesting places there.