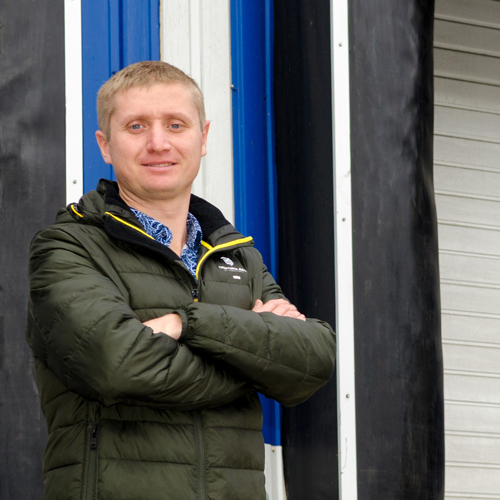 Sergey Kharin, the head of the delivery department "Yug", about dispatching weekdays, peculiarities of the work with delivery services and opening of new cross-docks.
As a supervisory operator
I joined the company in 2009 as a courier service manager. We were in charge of sending and receiving parcels and documents. My duties included sending and receiving documents and parcels in the courier service departments: Autolux and Günsela. Omega did not work with Nova Poshta at that time.
Task execution was significantly complicated as all work with courier services was not automated yet. After "unloading" parcels, we manually made out declarations and gave them to the drivers. The register was kept in an ordinary Excel file, so there was a lot of work to do. After a while, these processes were automated and it became easier to work.
Difficulties at work
We're all human, and of course there were difficulties in communication. In particular, in the process of shipment, sometimes it wasn't possible to find immediately a common language with the drivers. For example, there were some situations when the drivers refused to take more than one parcel, referring to the fact that it was hard for them. At the same time, my task was to send and deliver everything on time. I had to come to an agreement, and I handled it perfectly.
Development of the profession
Due to my work I interacted with the transport logistics department a lot. And when I was offered a position in this department, I immediately agreed. I graduated from Kharkiv National Automobile and Highway University and transport logistics was close to me. Moreover, in Omega I wanted to get exactly this position.
Moving to the transport logistics department gave me a boost to development: the duties here were more interesting and versatile. But there were also more responsibilities: I often had to stay in the office until all the goods were gone. I couldn't just walk away until the work was done.
After the restructuring, the transport department was divided into sectors. Each manager was given one of the directions. I had a western direction - from Vinnitsa to Zhytomyr with the organization of logistics for Western Ukraine. I love my job because it doesn't let me just sit, I keep developing all the time. Thanks to the new directions, I never get bored with the working process.
Focus on "Yug"
Previously, I was responsible only for the goods arrival on time to the customer. Now I work as the head of delivery department "Yug", with a team of about 180 people. I am responsible for my employees, whose job duties include timely delivery of goods to customers, compliance with services, minimizing delivery costs, control of goods delivery to customers. And I do my job perfectly. This is a huge responsibility, and a great motivation for further development.
The future is in automation
Our company is developing confidently, some changes happen daily. Somewhere we slow down, somewhere, on the contrary, we work harder. This is a normal process; I can't imagine the existence of the company without it. And these changes, of course, affect all departments. For example, in the past we had to keep tracking the routes for drivers, so that they wouldn't spin up kilometers. The dispatcher's department had to track and check routes. But launching a special mobile application fully automated this function. Now many processes in the company are automated at the software level. This is a development for the future.
Relationship with colleagues
We're all here for each other. And we never let each other down.
Working weekdayss
I have a very diverse range of activities, there is nothing boring, and there will always be something new. There are a lot of different types of communications - with managers, subordinates, drivers, and with related business units. Of course, there is misunderstanding with these related units. Some moments are out of control, there may be failures. But these are workdays. Any situation is solvable.
Secrets of productive work
In my work I am committed to the principles of honesty and openness.
A good job for me is a job that you really like, a place you always want to come back. A job that inspires you all the time and makes you want to improve yourself.
I take a pattern by my senior officer. I like the way he works: he follow through the line, he works out all the small details. And I try to understand every question in full.
The weekends with my family and old movies, Gaidai's films, help me to have a rest from work.