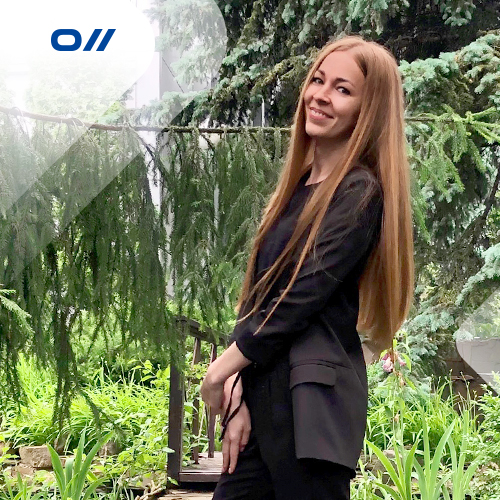 Iryna Omelchenko, Supply Chain Support Manager, is an essential member of our friendly Omega team! She has been with us for 9 years already, and during this time she has become a real professional in her field! Read this material to find out more.
From courier to manager
At the age of 19 I came to work to the company as a courier. That time I studied on extramural basis and, in order not to sit at home, I decided to occupy myself in some way. And then everything started... Over time, I moved to the position of an account manager in the wholesale department, then worked as a supervisory operator, a transportation specialist and a transport logistics manager. I have worked as a transport logistics manager for 5 years, and it's time to change something and move on. I decided to try myself in the procurement support department as a supply chain support manager. And everything worked out - I immediately liked working here.
I enjoy my work
In my profession, I like constant communication with partners; successfully solved problems and the support of colleagues are also very motivating. I consider high results and success in work to be my main achievement. The joy is when you dive into work and just don't notice how time flies. But it's even more joyful when you do something that is really good for others.
Now I am actively learning English, in our work this knowledge is important for constant communication with foreign partners. I would like to become a real pro in this field!
Iryna's colleagues highlight her responsibility and sociability: "Ira immediately mesmerized us with her easiness of perceiving difficulties. She responsibly approaches all difficult work issues, but at the same time she does it with easiness. She is great at finding an approach to all her assigned suppliers. Despite the fact that some of them are very peculiar in work and in communication. There are often situations that knock employees off-balance, but this is not about Ira."
Shopping and traveling
I really like traveling. And I would like to buy a scratch map to paint everything in it, even Arctic and Antarctica. My hobby is shopping. It helps to successfully cope with problems, improves mood and makes a big portion of adrenaline release into the bloodstream.