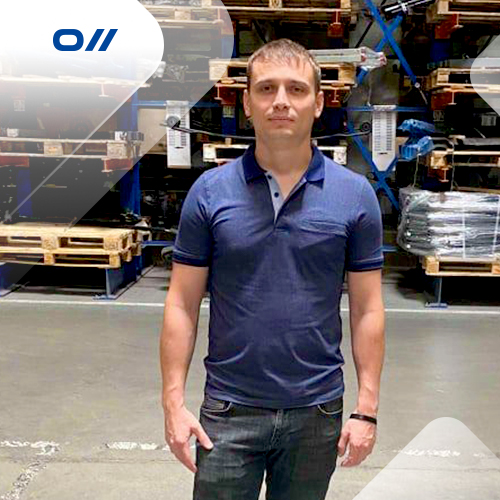 Mykhailo Zaglada came to Omega 7 years ago as a storekeeper. Now he holds one of the leading positions in the company - warehouse logistics manager, three times he became a member of the «Golden League» and according to the results of the company's employees survey on the values of «Omega», he was named one of the most responsible Omega employees.
«Omega» is my first job
After I graduated from college and entered university, on the recommendation of my friends, I decided to try to get a job at «Omega».
I started as a reception area storekeeper. I still remember how I was impressed on my first working day by the warehouse scale and the number of employees.
Gradually, I studied warehouse processes, studied the literature on warehouse logistics and made new acquaintances. The mentors in the company were always ready to help and give a necessary piece of advice. Over time, I made friends at work.
New opportunities
Once I was offered to go on a business trip to open a new regional warehouse. This event became a new step in the development of my career in the company. Since that moment I have opened thirteen regional warehouses, worked in very strong and ambitious teams of like-minded people, in ten of which I was a foreman. It was a great experience.
Forward and upward
For three years in a row, I became a participant of the «Golden League». I wanted to develop my career, so I always kept an eye on new vacancies in the company. When a vacancy was opened for the position of the return area coordinator, I decided to give it a try.
At the initial stage, it was difficult to work: I had to study new processes, join a new team. But after a while everything worked out: the productivity and work quality of the area improved, the team became friends. In short, the work has started!
But I didn't stop there, and when I got an opportunity to move to the position of a warehouse logistics manager, I did well at an interview for the position and got it. At first, I had to get used to new processes, learn to work with related business divisions, organize various processes and monitor their implementation. It's easy to work now. Difficulties happen, but that's okay.
Leisure and hobbies
I spend my free time with my family and friends, and I am also fond of numismatics and sports.