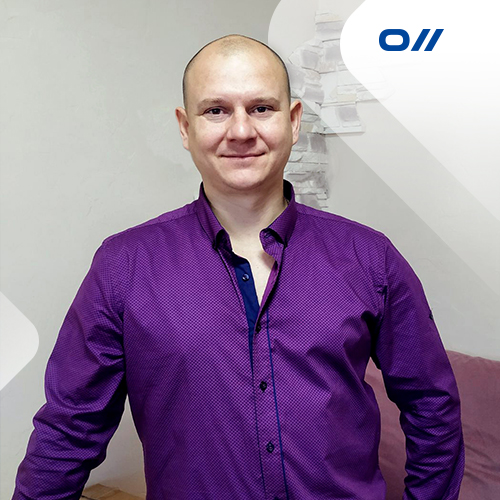 Today we want to tell you about Sergii Mamalyha, sales manager for corporate clients (South). Sergii builds trustworthy relationships with clients, confidently moves towards his goals and tries to achieve high results in his work. Read about what inspires our colleague and drives him to new achievements in today's article.
Acquaintance with Omega
I clearly remember my first day at Omega. I arrived in Kharkiv, I was met at the train station and brought to Omega. I was amazed by the scale of the company. It was beautiful and clean. They gave me a tour of the territory and showed me how the company worked. I had a two-week internship in Kharkiv, where I got to know the inside job and had the opportunity to assess the scale of the company. It is pleasant to remember how I was surprised that time by the friendliness of all employees - people smile to you.
I am proud to work in this company
I like to represent the interests of our company in my region (Kropyvnytskyi – editor's note), find new clients and work with them, sell products and services of the company. I like to communicate with clients and I am proud to work for a company which is number one in Ukraine.
Omega is a company you can trust. The client does not think that he will be cheated - the goods will come in any case, all documents are always in order.
I've understood how certain processes work and how innovations are justified during my work. This knowledge helps me to cope with difficulties, even though it takes time to solve some of them. This comes with experience.
Sergii's supervisor, Maksym Skliarenko, sales executive for corporate clients, is proud of his employee's achievements. In April 2020, during the lockdown period, Sergii managed to double the sales of spare parts for foreign trucks. Maksym speaks about Sergii as about an honest, decent and humble employee: "Sergii is result-oriented, clearly sets goals and goes towards achieving them. He knows the company's product range very well, always finds something for customers to offer and tries to exceed their expectations. He doesn't look at others, but simply does his work well and strives to achieve the intended outcomes.
It's not only about work
Perch fishing helps me take my mind off work. I like the process of preparing for fishing. To work out a strategy - choose a fishing spot, feed the fish, sit and wait. Catch up to five kilograms does not count. My record is a nine-kilogram amur fish.
I also like to spend time outdoors and cook kebab and pilaf for relatives and friends.