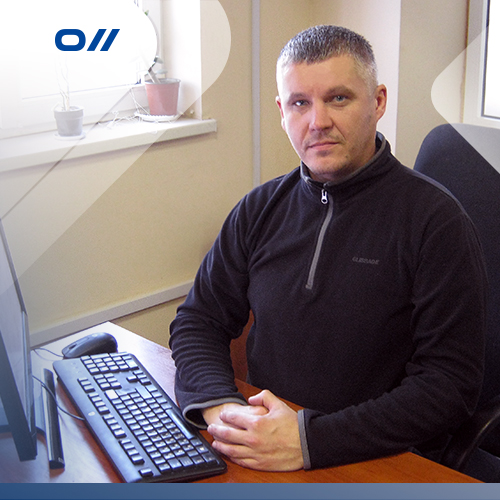 This week we have a 5-year anniversary of the branch in Zaporizhia. Serhii Hryshkov, who is the current head of Zaporizhia warehouse, was at the origins of it. Serhii's daily work is aimed at providing qualitative service for our customers. Serhii told us how his Omega way began, what results were achieved, and shared interesting moments of his work.
Positive atmosphere at the beginning
The first working day was held in a positive atmosphere during the acquaintance with the management and staff. It was very nice to see everyone's desire to help and teach something new. I was surprised by the scale of the company, the numberof working staff, transport and logistics chains. Everything worked as a single well-set mechanism. Also I was amazed by the technical base of the company (the first time I came across a WMS-system), and I am still in the process of conceiving all the new functions of this software.
What do you like about work
First of all, we like to be an essential element of the company's working mechanism: the loyalty of the end-user to Omega depends on the quality of the warehouse. Also I like communication with the management, it is very pleasant when all working issues are solved in the spirit of mutual victory. I can also note the openness of the staff from related departments: during five years of working togetherthere was not any situation when someone did not want to compromise for solving working issues.
Mykhailo Vtorov, Serhii's chief executive, represents him as a role model for others: "First of all, Serhii is a very responsible, reliable and loyal employee. He didn't lose these qualities, working in the company during 5 years. Serhii is a real manager: tidy mind – tidy warehouse and all processes. I never doubt in him and do not worry that any unusual situation will not be solved. Serhii is always open to dialogue. A good teacher and practitioner: he will learn by himself - he will teach others, and before he demands something, he will personally check everything. He is very well oriented in the processes".
Positive approach to difficulties
Difficulties are just part of the working process. First of all, you have to think about the final goal, and then everything will work out. Any problem must always be solved in a positive way and with an understanding what can be achieved by solving this or that issue. This is such an experience that allows us to become professionals in our business.
Interesting hobbies
I love to spend my free time on the shore ofsome kind reservoir, fishing in silence and calmness from the city bustle. I also like billiards – a game that requires maximum concentration and highly improves self-control.