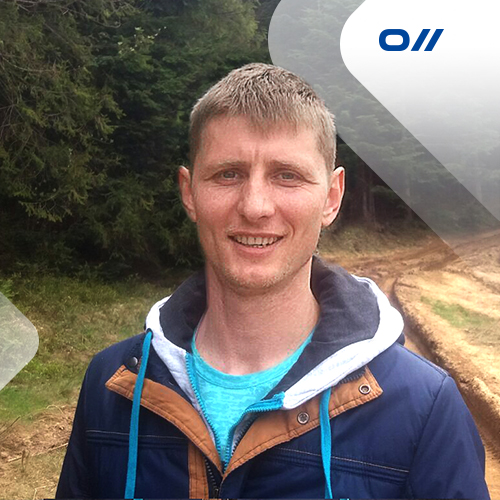 Today we want to tell you about another great Omega worker. Meet Volodymyr Dudkin, the driver of the electric forklift at the dispatch department.
Volodymyr has been working at Omega for 10 years, and during this time he worked his way up from a storekeeper to an electric forklift driver. Attentiveness, self-possession, responsibility and ability to react quickly to non-standard situations – all these qualities characterize Volodymyr perfectly, because he is a real professional in his work. And this is not surprising, considering the high speed of operations on forklifts.
Read about Volodymyr's first impressions and his attitude to his work and his family in today's #Omegapeople.
Confidence in the future
When I joined Omega, I was first impressed by the scale of the organization, and then I was won by the friendliness of my colleagues and equality in relations. I stayed with the company for many years, and now my work gives me confidence in the future, and that means a lot.
The work process is all about interaction
Challenges can happen in any job. After all, the work process is the interaction of a large number of links in a single powerful chain. Misunderstandings arise from time to time. It's ok, because sometimes different employees may have different points of view how to achieve the end result. Therefore, the decision on such issues should always be prompt: in our business, the main thing is quality and timeliness, so we must find a common language.
Volodymyr's supervisor, Dmytro Kishchuk, appreciates him very much: "Vladimir is attentive, responsible and very hardworking. He has a professional approach to his targets and always copes with them perfectly. In addition, Volodymyr is a sociable, open-minded and kind person who treats colleagues with respect and is always ready to help.
Young entrepreneur
Few people know that my working life began with entrepreneurship. My brother and I built a chewing gum business when we werekids: we sold it with a margin.
I am together with my family always and everywhere
My passion is my family. Why? Because I completely rest and get a charge of energy with them. I am together with my family always and everywhere.