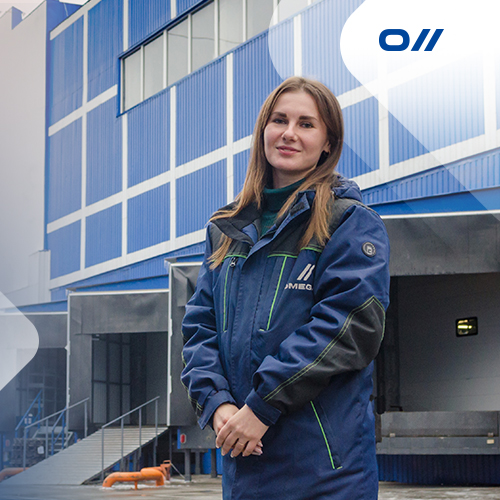 Ahead of New Year holidays we want to tell you about a wonderful person and great employee - Yuliia Shyian, who has been working in our friendly team for 2 years! Despite her womanhood and delicacy, Yuliia solves important and difficult problems, seemingly not in a feminine job. Yuliia is now a storekeeper at the shipping department (SNS self-delivery at the central warehouse), but she began her career at "Omega" in the storage site. Yuliia told us about her first working months in our company, about the difficulties she had to overcome, and about her hobbies.
Tricks of the trade in a warehouse
At first, I worked in the storage site. On my first day there were a lot of stressful situations, because I hadn't worked with parts before. I remember being told, "Sort out the valve glandes!" And I had no idea what that was at that time; I learned that a little later.
During my first month on the job I tried to figure out whether I could do the job properly: my colleagues worked quickly and clearly, and I did not want to let them down. I was also very surprised that it did not look like a woman's job, but there were a lot of girls in the warehouse and they worked along with men. I worked in that department for four months, and then a place became available in the utilities warehouse, and I moved there.
Now I'm in charge of packingpromotional products, gifts, prizes, as well as handing over documents for drivers.
I like to give positive emotions
I love my job. I am the link between the sender and the addressee. It turns out as if I exist, but no one knows about me. It's pretty cool. I also like to give positive emotions to other employees, because I am the one who sends them gifts.
Of course, anything can happen. For example, it happens like that: the addressee calls and says he has not received a gift, although I know that I've sent it for sure. I deal with such situations very scrupulously, so that everyone is pleased with my work and gets their parcels on time.
Yuliia's supervisor, Serhii Yevsykov, the head of the shipping section, appreciates her hard work, discipline and diligence: "Yuliia often works along with the other employees, carrying out difficult and sometimes even heavy jobs, she is always constructive and she is respected for such quality by her colleagues. Yuliia is also a modest girl and always looks good.
Firstly is cars, than - planes
An interesting fact about me: by profession I am a fuel and lubricants technician, I studied at the Kremenchuk Flight College, but I am more associated with above-ground transport in my life. My first job was as a cashier at a gas station, and now I work with auto parts. Another interesting fact: I am afraid of bicycles. Once I fell off my bike, now I cannot get on it at all. And that's why I do not ride our Segway, although it would be faster to deliver documents on it as we have a big territory. Also, I have a locksmith qualification and a massage therapist certificate.
A creative hobby
I do needlework, beadwork and also lay out paintings with diamond mosaics to relax and distract from everything.