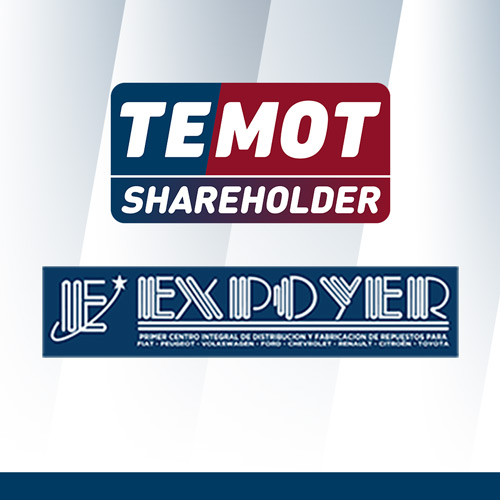 TEMOT International's network in Latin America continues to expand at high-level. Expoyer S.A., one of Argentinas leading wholesalers joined the international trading group recently, thus strengthening its footprint in a key market. The partners will work to offer distributors and workshops even better services and exploit profitable business opportunities.
The accession of Expoyer S.A. to TEMOT International's global passenger car network for both partners and the domestic Aftermarket as well.
Expoyer S.A. was founded in 1966. The family-run and family-owned company is headquartered in Buenos Aires and looks back at more than five decades in wholesale business. The company has grown to employ a staff of 400 people and serves more than 3,600 customers in the country. Its portfolio includes 78,000 stock keeping units from 66 highly reputed spare part brands, many of which belong to the car manufacturers' tier-one suppliers and provide original parts to the Aftermarket, among those e.g. Bosch, Continental, Mahle, Philips and Denso.
Apart from selling parts to its customers, the company aspires to offer real value. In doing so, it provides end-to-end delivery services for specialized retailers at the best price on the market. Also, the company's portfolio includes 800 products manufactured by Accesorias Argentinos, a manufacturer of plastic parts and matrices and affiliate of the Expoyer group. The respective parts are produced solely for and distributed exclusively through Expoyer S.A.'s sales channels and comprise proprietary designs and technologies.
Thanks to a warehouse capacity of 26,000 square meters and reliant 24-hour logistics as well as super-fast same-day delivery through the companys own fleet of 18 vehicles, customers can be sure to complete vehicle service and repairs with the best available parts in the market in the shortes possible time. The same proves true across borders as Expoyer S.A. also acts as an exporter to the member states of the South American trade bloc Mercosur as well as to Europe and Asia.
Comments Fotios Katsardis, President and CEO of TEMOT International: "We are very pleased to have won Expoyer S.A. as a new shareholder. This is a great and strong addition to our global network and a perfect fit as well as TEMOT International has become a platform for exchange for so many market-leading, family-owned aftermarket enterprises worldwide. Distributors in Argentina will benefit strongly from this cooperation and we cannot wait to see this happen."